2020 custom logo scented soy wax aroma metal box tin jar candle
Product Description
#detail_decorate_root .magic-0{vertical-align:top}#detail_decorate_root .magic-1{vertical-align:top;display:block;padding-right:4px;box-sizing:border-box;padding-left:4px}#detail_decorate_root .magic-2{vertical-align:top;padding-bottom:4px;box-sizing:border-box;padding-top:4px}#detail_decorate_root .magic-3{padding:0;margin:0;white-space:pre-wrap;font-size:14px}#detail_decorate_root .magic-4{text-align:center}#detail_decorate_root .magic-5{font-size:24px}#detail_decorate_root .magic-6{width:750px}#detail_decorate_root .magic-7{overflow:hidden;width:750px;height:941px;margin-top:0;margin-bottom:0;margin-left:0;margin-right:0}#detail_decorate_root .magic-8{margin-top:0;margin-left:0;width:750px;height:941px}#detail_decorate_root .magic-9{border-bottom-style:solid;border-bottom-color:#fff;font-family:Arial,Helvetica;font-size:24px;color:#0d31eb;background-color:#ff7a00;text-align:center;font-style:normal;font-weight:bold;border-bottom-width:2px;padding-top:8px;padding-bottom:4px;padding-left:1px}#detail_decorate_root .magic-10{width:750px;border-collapse:collapse}#detail_decorate_root .magic-11{min-height:18px;padding:5px 10px;width:151px;min-height:18px;box-sizing:content-box}#detail_decorate_root .magic-12{min-height:18px;padding:5px 10px;width:543px;min-height:18px;box-sizing:content-box}#detail_decorate_root .magic-13{display:none}#detail_decorate_root .magic-14{min-height:18px;padding:5px 10px;width:120px;min-height:18px;box-sizing:content-box}#detail_decorate_root .magic-15{min-height:18px;padding:5px 10px;width:122px;min-height:18px;box-sizing:content-box}#detail_decorate_root .magic-16{min-height:18px;padding:5px 10px;width:544px;min-height:18px;box-sizing:content-box}#detail_decorate_root .magic-17{min-height:18px;padding:5px 10px;width:127px;min-height:18px;box-sizing:content-box}#detail_decorate_root .magic-18{overflow:hidden;width:750px;height:607px;margin-top:0;margin-bottom:0;margin-left:0;margin-right:0}#detail_decorate_root .magic-19{margin-top:0;margin-left:0;width:750px;height:607px}#detail_decorate_root .magic-20{overflow:hidden;width:750px;height:591px;margin-top:0;margin-bottom:0;margin-left:0;margin-right:0}#detail_decorate_root .magic-21{margin-top:0;margin-left:0;width:750px;height:591px}#detail_decorate_root .magic-22{overflow:hidden;width:750px;height:1158px;margin-top:0;margin-bottom:0;margin-left:0;margin-right:0}#detail_decorate_root .magic-23{margin-top:0;margin-left:0;width:750px;height:1158px}#detail_decorate_root .magic-24{overflow:hidden;width:750px;height:997px;margin-top:0;margin-bottom:0;margin-left:0;margin-right:0}#detail_decorate_root .magic-25{margin-top:0;margin-left:0;width:750px;height:997px}#detail_decorate_root .magic-26{overflow:hidden;width:750px;height:1084px;margin-top:0;margin-bottom:0;margin-left:0;margin-right:0}#detail_decorate_root .magic-27{margin-top:0;margin-left:0;width:750px;height:1084px}#detail_decorate_root .magic-28{overflow:hidden;width:750px;height:1245px;margin-top:0;margin-bottom:0;margin-left:0;margin-right:0}#detail_decorate_root .magic-29{margin-top:0;margin-left:0;width:750px;height:1245px}#detail_decorate_root .magic-30{overflow:hidden;width:750px;height:1068px;margin-top:0;margin-bottom:0;margin-left:0;margin-right:0}#detail_decorate_root .magic-31{margin-top:0;margin-left:0;width:750px;height:1068px}#detail_decorate_root .magic-32{overflow:hidden;width:373px;height:224.422314911366px;margin-top:0;margin-bottom:0;margin-left:0;margin-right:0}#detail_decorate_root .magic-33{margin-top:0;margin-left:0;width:373px;height:224.422314911366px}#detail_decorate_root .magic-34{overflow:hidden;width:373px;height:224px;margin-top:0;margin-bottom:0;margin-left:4px;margin-right:0}#detail_decorate_root .magic-35{margin-top:0;margin-left:0;width:373px;height:283.3903903903904px}#detail_decorate_root .magic-36{overflow:hidden;width:247.33333333333334px;height:169.6706666666667px;margin-top:0;margin-bottom:0;margin-left:0;margin-right:0}#detail_decorate_root .magic-37{margin-top:0;margin-left:0;width:247px;height:169px}#detail_decorate_root .magic-38{overflow:hidden;width:247.33333333333334px;height:169.22807017543863px;margin-top:0;margin-bottom:0;margin-left:4px;margin-right:0}#detail_decorate_root .magic-39{margin-top:0;margin-left:0;width:299px;height:169px}#detail_decorate_root .magic-40{margin-top:-128.1727395411606px;margin-left:0;width:247px;height:329px}#detail_decorate_root .magic-41{vertical-align:top;display:inline-block;padding-right:4px;width:33.33%;box-sizing:border-box;margin-bottom:-4px;padding-left:4px;margin-top:-4px}#detail_decorate_root .magic-42{vertical-align:top;box-sizing:border-box;padding-top:4px}#detail_decorate_root .magic-43{width:245px;height:165.529176201373px;overflow:hidden}#detail_decorate_root .magic-44{position:relative;left:0;top:0;width:245px;height:165.529176201373px}#detail_decorate_root .magic-45{padding:0;margin:0;color:#333;font-size:14px;line-height:20px;font-weight:bold;white-space:pre-wrap}#detail_decorate_root .magic-46{width:245px;height:165px;overflow:hidden}#detail_decorate_root .magic-47{position:relative;left:0;top:0;width:245.00000000000003px;height:183.75000000000003px}#detail_decorate_root .magic-48{position:relative;left:0;top:0;width:245px;height:326.6666666666667px}#detail_decorate_root .magic-49{overflow:hidden;width:750px;height:370.98930481283423px;margin-top:0;margin-bottom:0;margin-left:0;margin-right:0}#detail_decorate_root .magic-50{margin-top:0;margin-left:0;width:750px;height:370.98930481283423px}#detail_decorate_root .magic-51{overflow:hidden;width:750px;height:316.4218958611482px;margin-top:0;margin-bottom:0;margin-left:0;margin-right:0}#detail_decorate_root .magic-52{margin-top:0;margin-left:0;width:750px;height:316.4218958611482px}#detail_decorate_root .magic-53{overflow:hidden;width:247.33333333333334px;height:247.33333333333337px;margin-top:0;margin-bottom:0;margin-left:0;margin-right:0}#detail_decorate_root .magic-54{margin-top:0;margin-left:0;width:247px;height:247px}#detail_decorate_root .magic-55{overflow:hidden;width:247.33333333333334px;height:247.33333333333337px;margin-top:0;margin-bottom:0;margin-left:4px;margin-right:0}#detail_decorate_root .magic-56{margin-top:0;margin-left:0;width:247px;height:322px}#detail_decorate_root .magic-57{margin-top:0;margin-left:0;width:310px;height:247px}#detail_decorate_root .magic-58{overflow:hidden;width:750px;height:206.77146311970978px;margin-top:0;margin-bottom:0;margin-left:0;margin-right:0}#detail_decorate_root .magic-59{margin-top:-16px;margin-left:-41px;width:826px;height:227px}#detail_decorate_root .magic-60{overflow:hidden;width:750px;height:143px;margin-top:0;margin-bottom:0;margin-left:0;margin-right:0}#detail_decorate_root .magic-61{margin-top:-9px;margin-left:208px;width:342px;height:152px}#detail_decorate_root .magic-62{overflow:hidden;width:750px;height:400px;margin-top:0;margin-bottom:0;margin-left:0;margin-right:0}#detail_decorate_root .magic-63{margin-top:0;margin-left:0;width:750px;height:400px}#detail_decorate_root .magic-64{overflow:hidden;width:750px;height:171.07093184979138px;margin-top:0;margin-bottom:0;margin-left:0;margin-right:0}#detail_decorate_root .magic-65{margin-top:0;margin-left:0;width:750px;height:171.07093184979138px}#detail_decorate_root .magic-66{overflow:hidden;width:750px;height:468.9153439153439px;margin-top:0;margin-bottom:0;margin-left:0;margin-right:0}#detail_decorate_root .magic-67{margin-top:0;margin-left:0;width:750px;height:468.9153439153439px} 2020 custom logo scented soy wax aroma metal box tin Jar Candle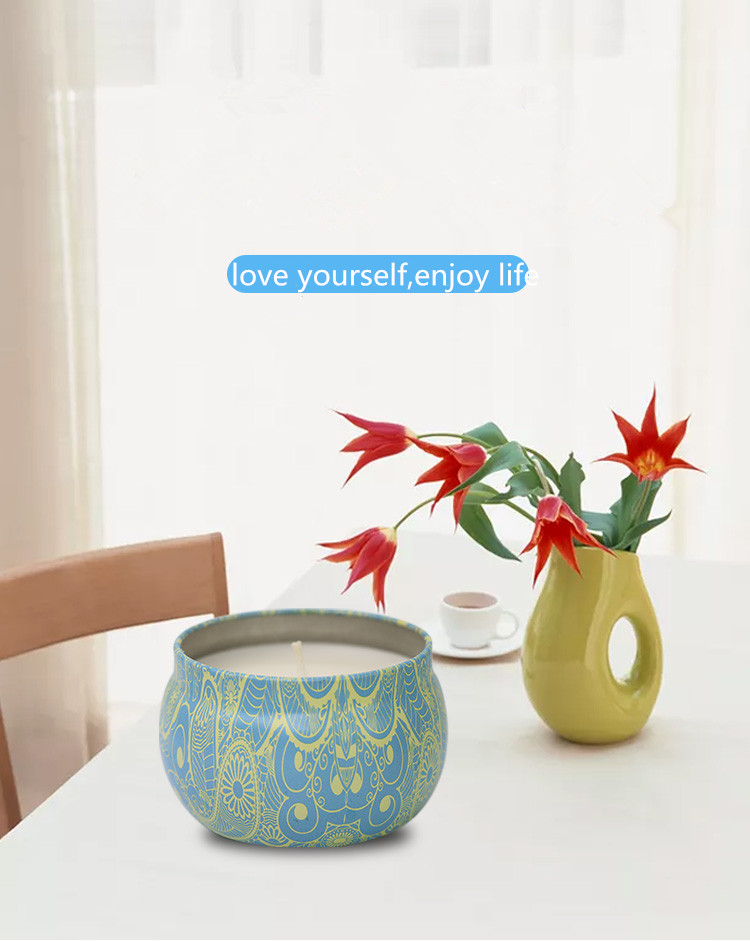 Product Description 1.Product Paramter
| | | | | |
| --- | --- | --- | --- | --- |
| Product Name | Scented tin jar candle | | | |
| Material | Paraffin Wax /soy wax | | | |
| Size: | 76*50mm | | | |
| Weight: | 160g with tin box | | | |
| Scent: | Cotton,Mango marmalade,Jasmine mint,Green tea and customized | | | |
| Color: | Red,yellow,green,pink,pruple,orange,etc. | | | |
| Packaging: | 4pcs/box,12box/ctn | | | |
| Sample Fee: | Paid by customer prepay, when place this order, refund it | | | |
| Freight Charge: | Paid by customer , prpay | | | |
| Delivery Time: | 7 days after receiving the deposit | | | |
| Payment Term: | T/T,D/P,WU, Cash | | | |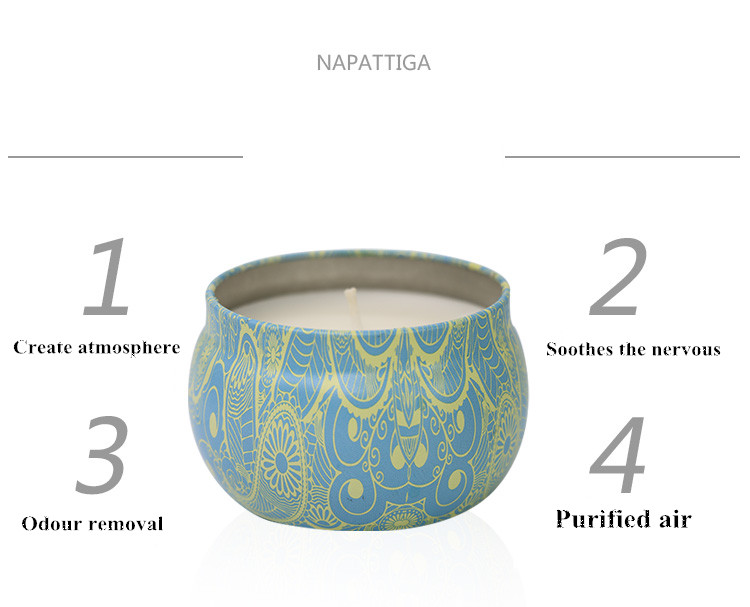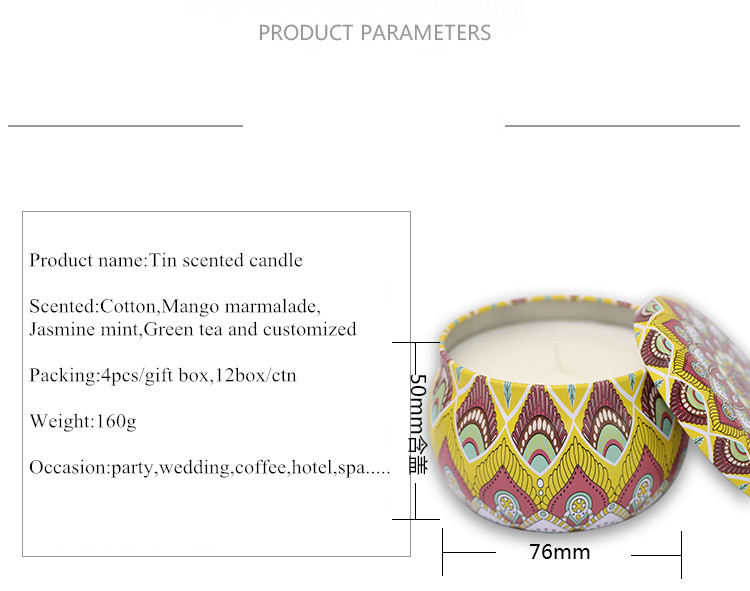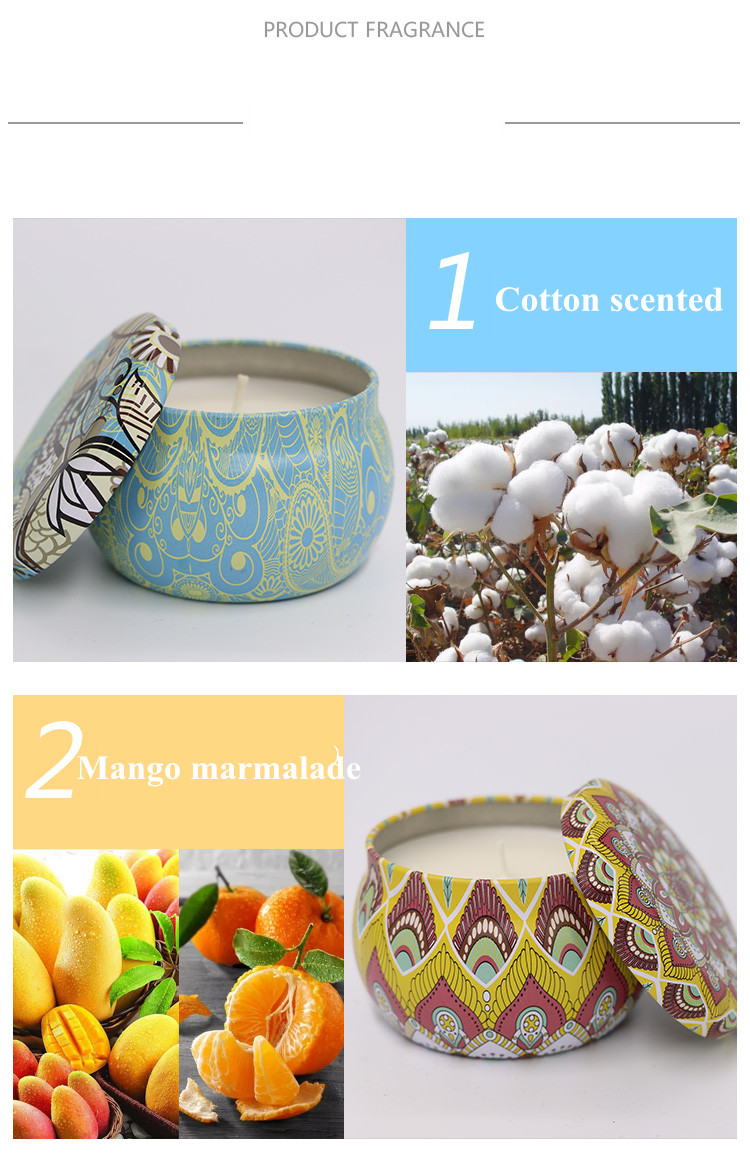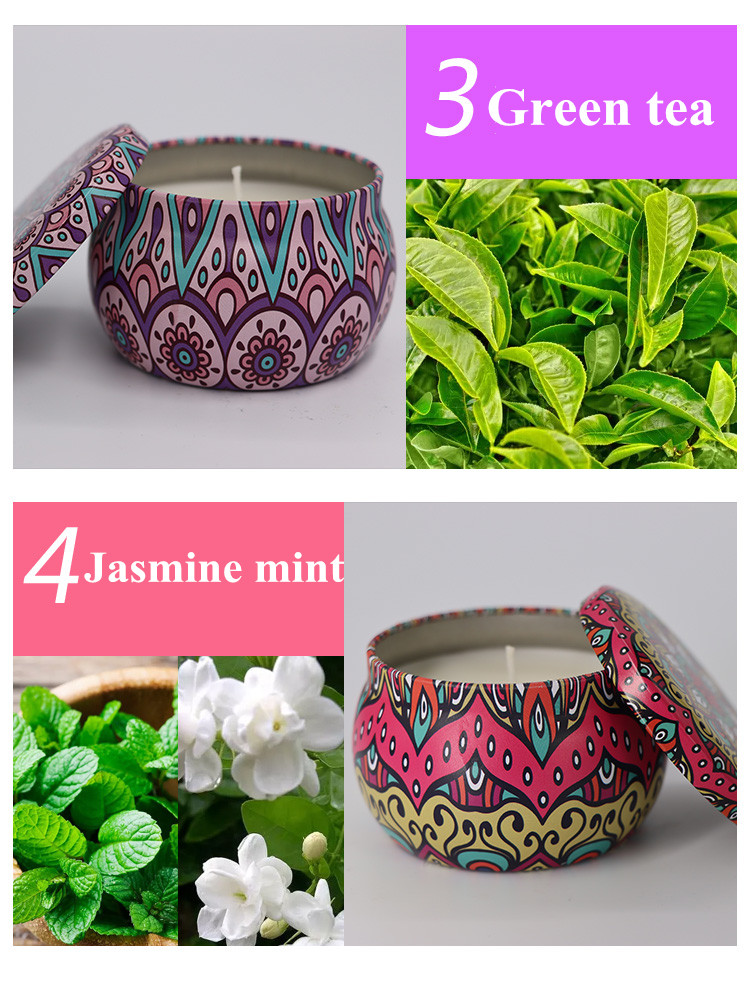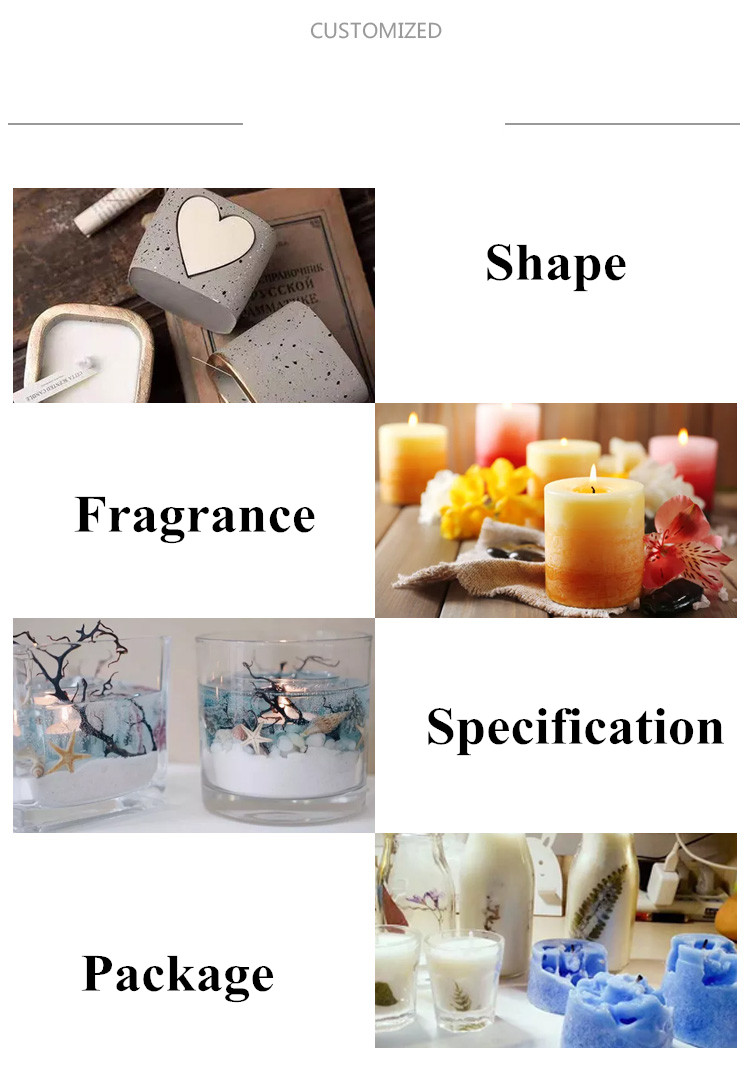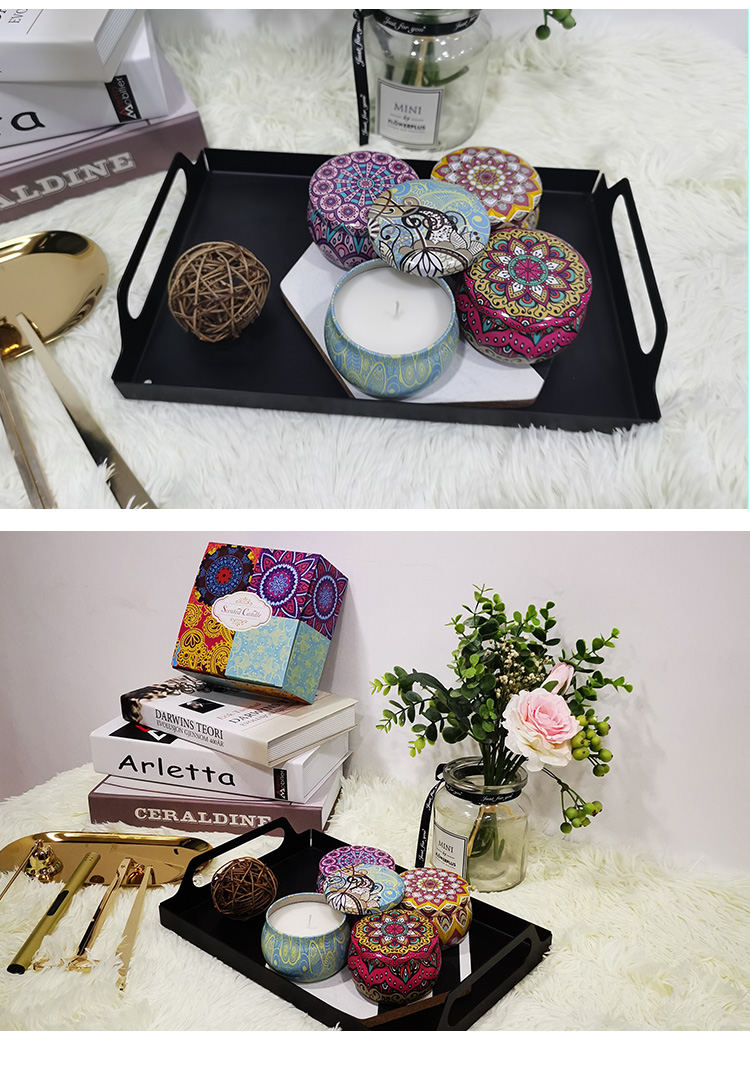 Company Profile 1.Company Introduction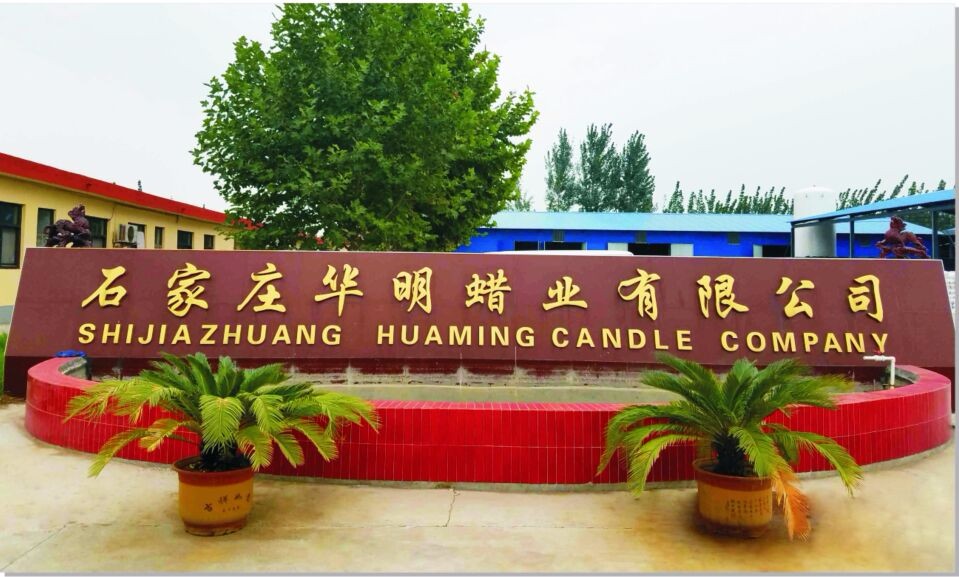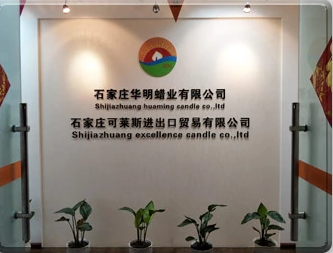 Since 1999, Huaming Candle has been a sophisticated designer and manufacturer of topnotch custom OEM candles including
Birthday Candle
, LED Candle ,
Pillar Candle
,
Glass Candle
,
White Candle
, Wax Tart , Art Candle ,
Taper Candle
,
Church Candle
,
Tealight Candle
, Magic Light Candle, Tin Candle ,
Spiral Candle
etc. All of our custom candles are engineered and manufactured in our 20000 square foot state-of-the-art manufacturing facility located in Shijiazhuang, Hebei..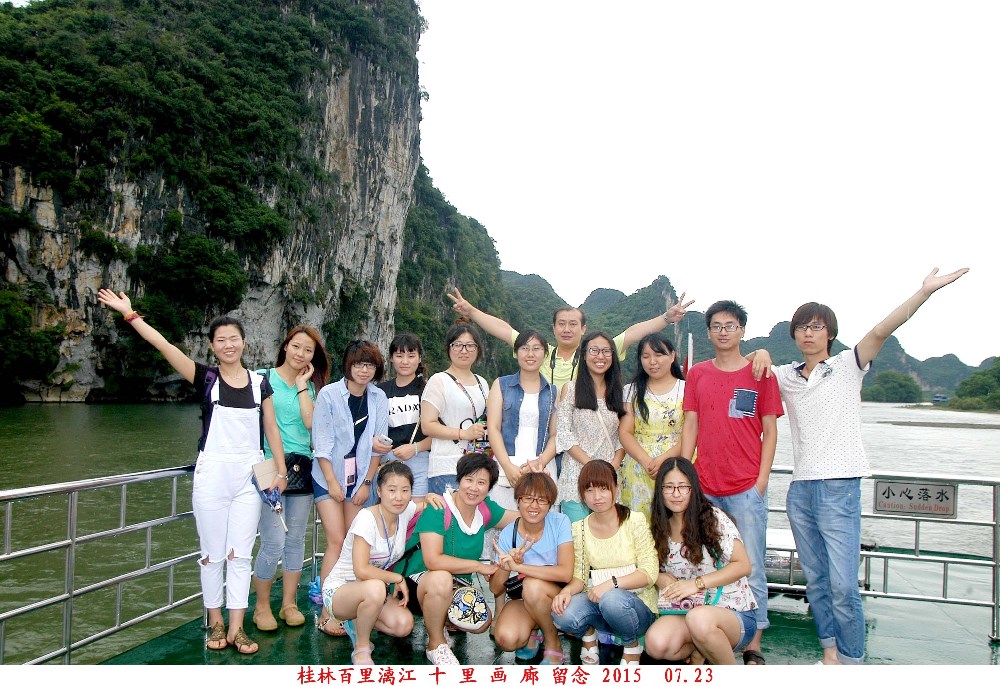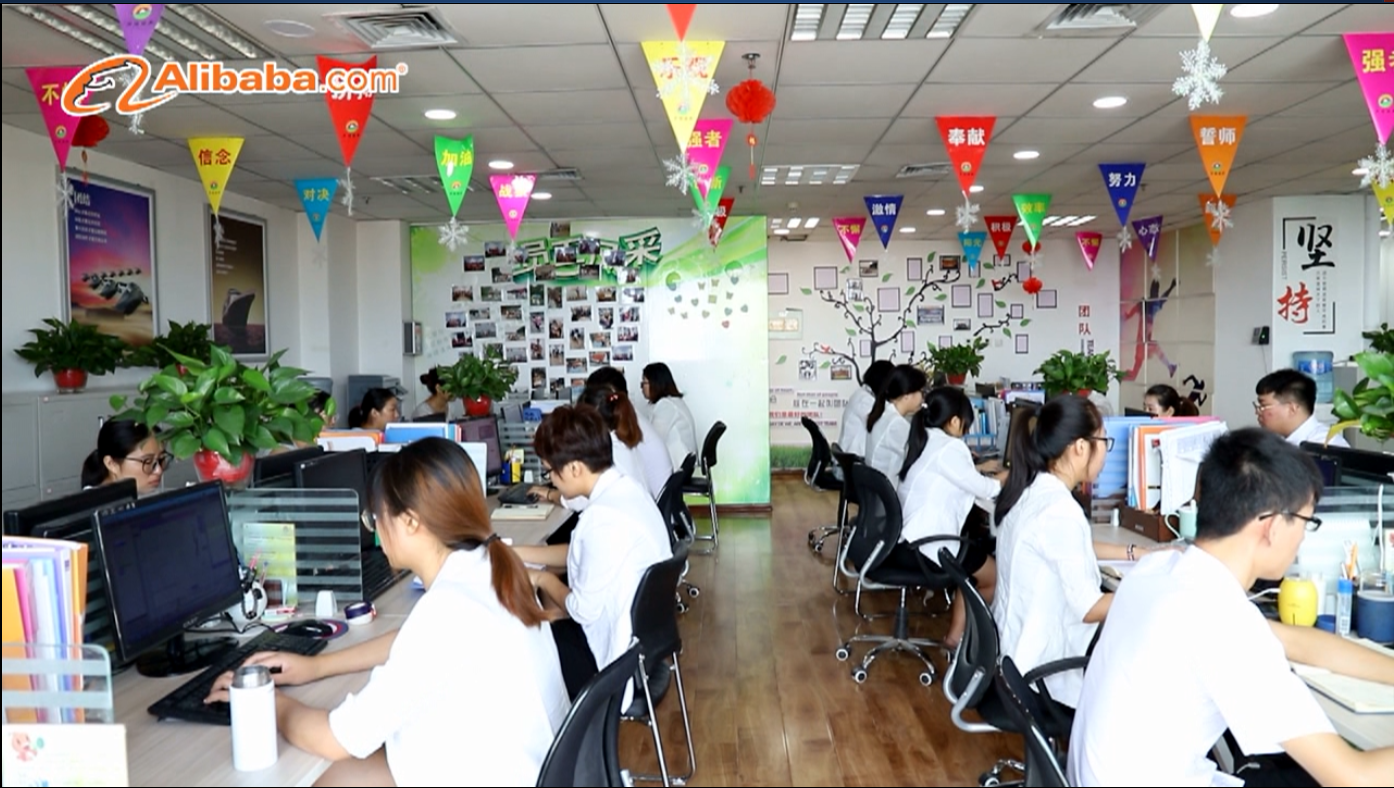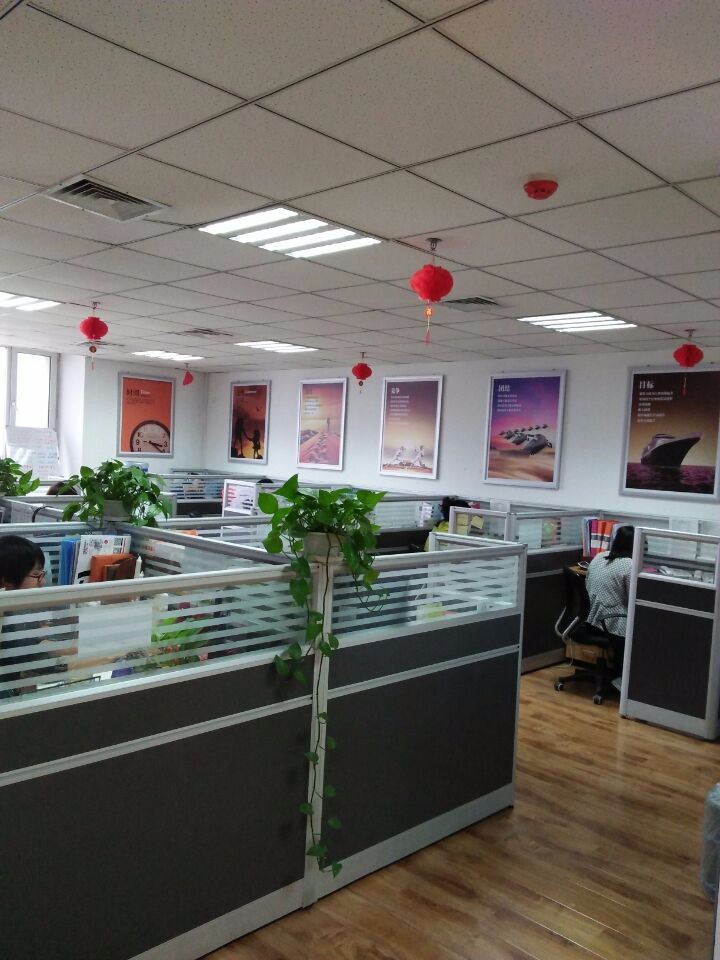 2.Exhibition Show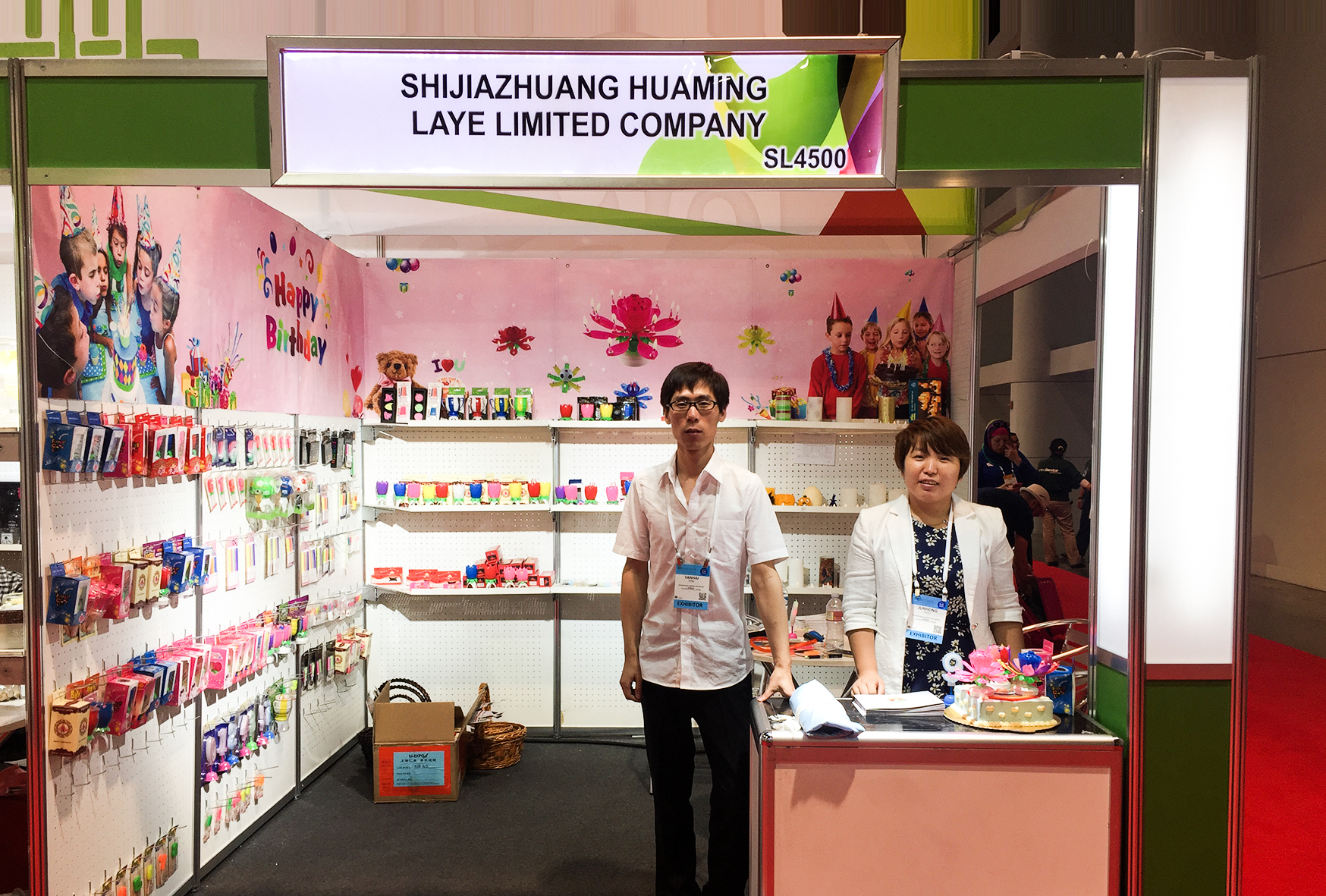 In 2018, five salespeople participated in the Spring ASD at the Consumer Products and Gifts Fair in Las Vegas, and achieved good results.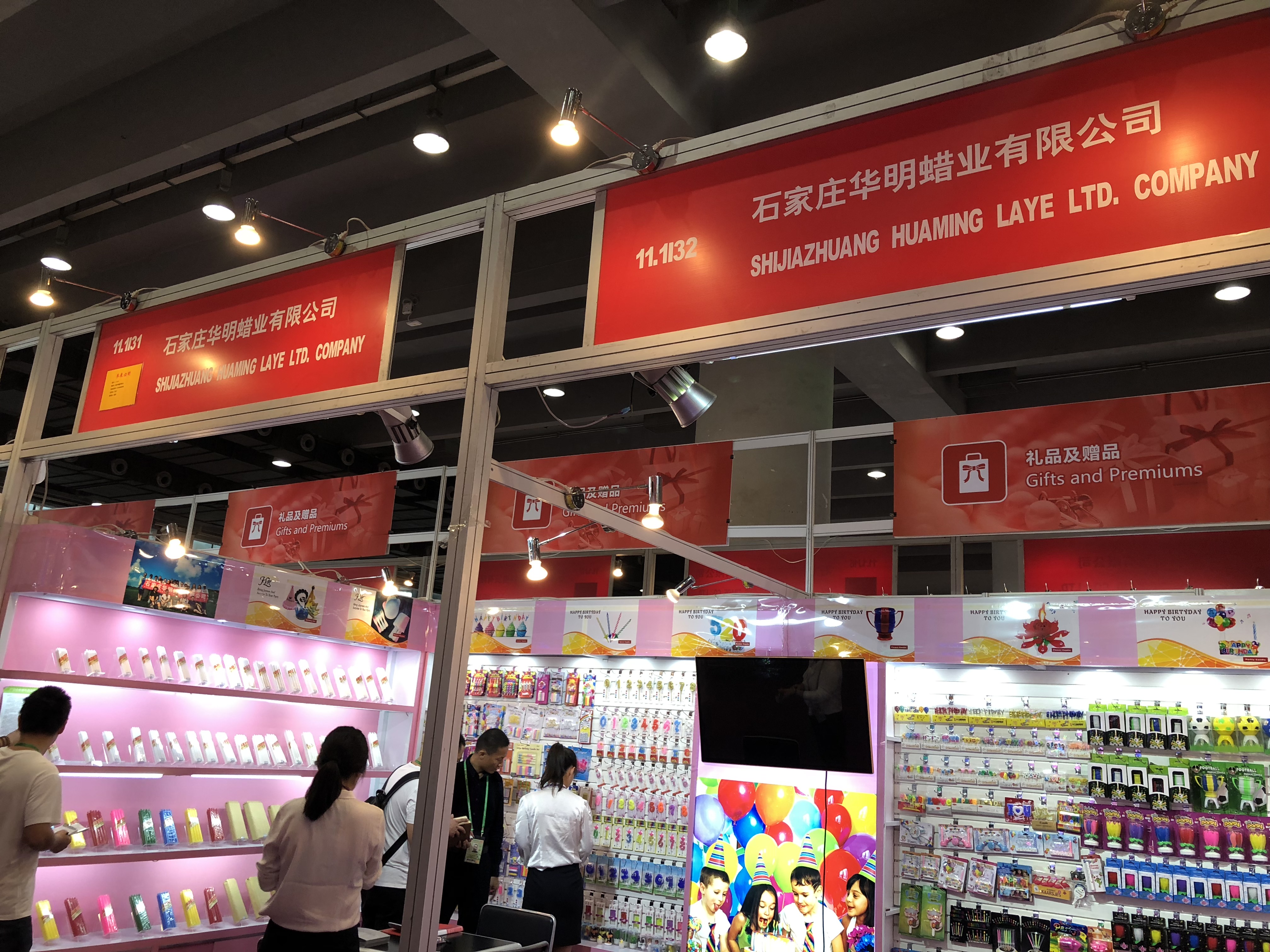 In 2019, 7 salesmen participated in the Hong Kong Gifts and Premium Fair.We met many customers achieved good results.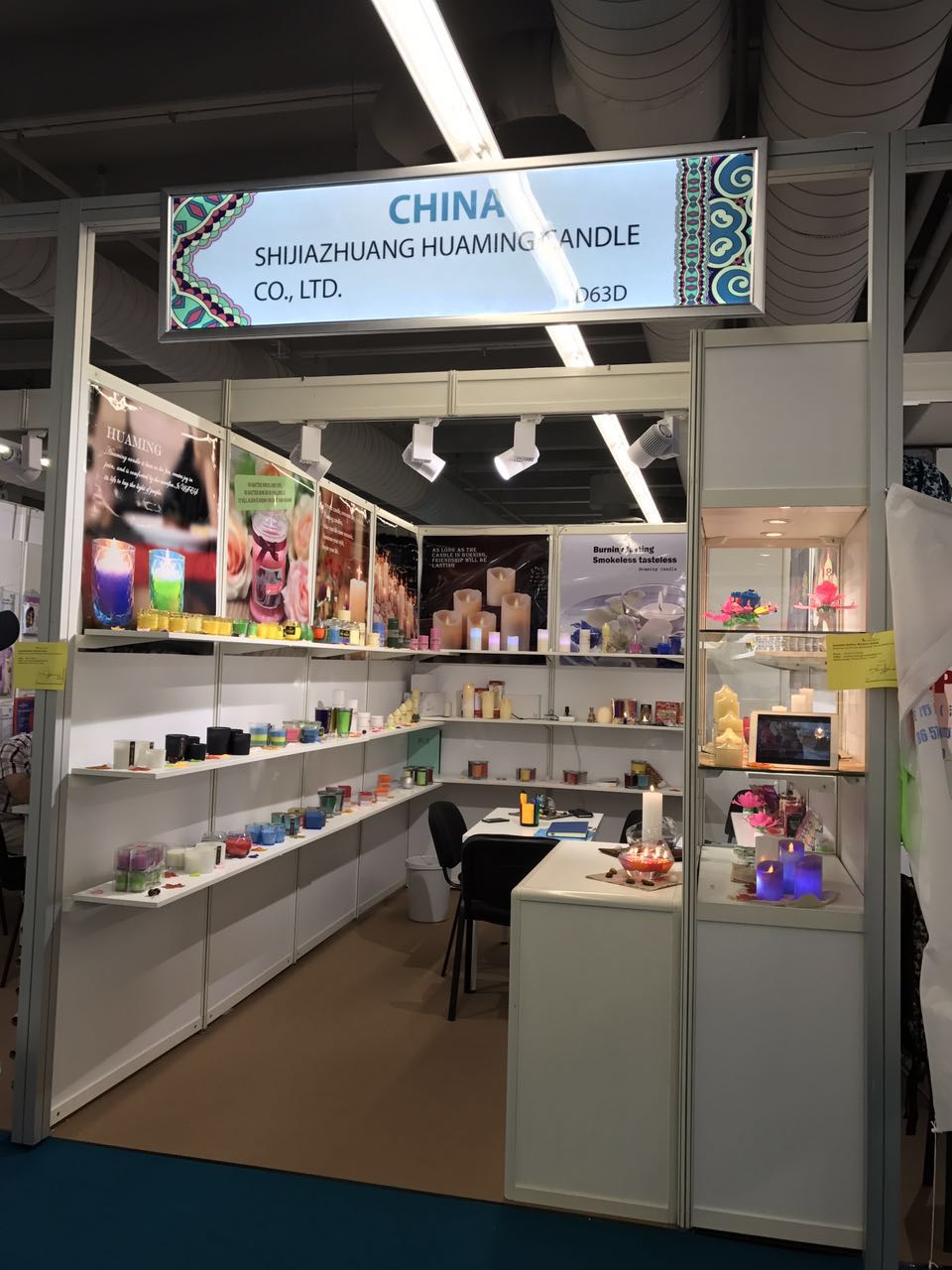 In 2019, 4 salesmen participated in Christmasworld, the Christmas Gift and Holiday Decoration Exhibition in Frankfurt, Germany.
Quality Control 1.High Quality Material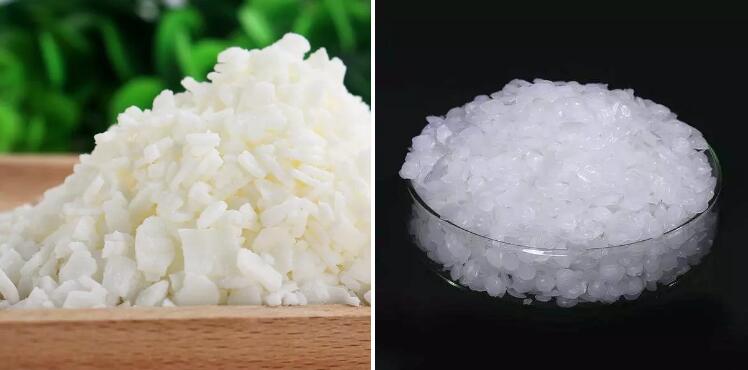 The company has 500 production workers, 35 quality inspectors, 10 production engineers and 5 equipment maintenance personnel, which can guarantee product quality and production delivery.
Since the company was founded, the company has applied for more than 10 patents, and has enough strength to provide customized and special services.
2.Certificate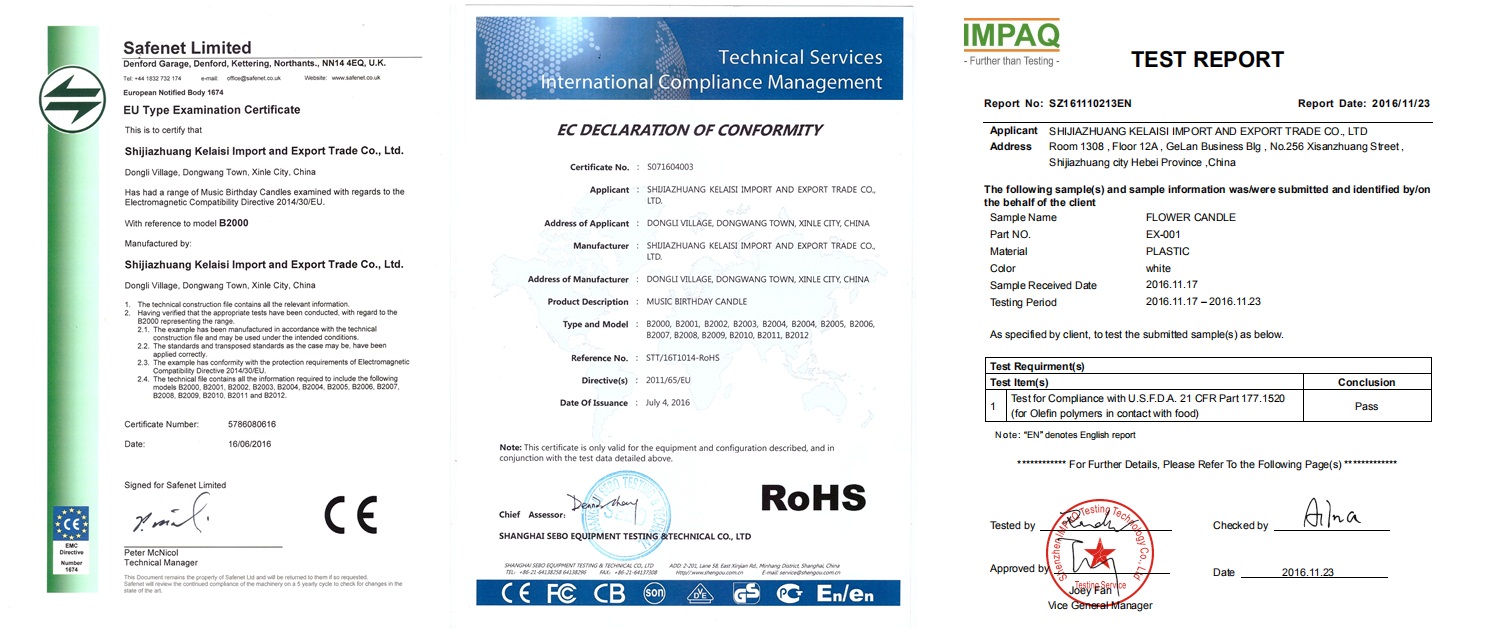 Product packaging 1.Package Photos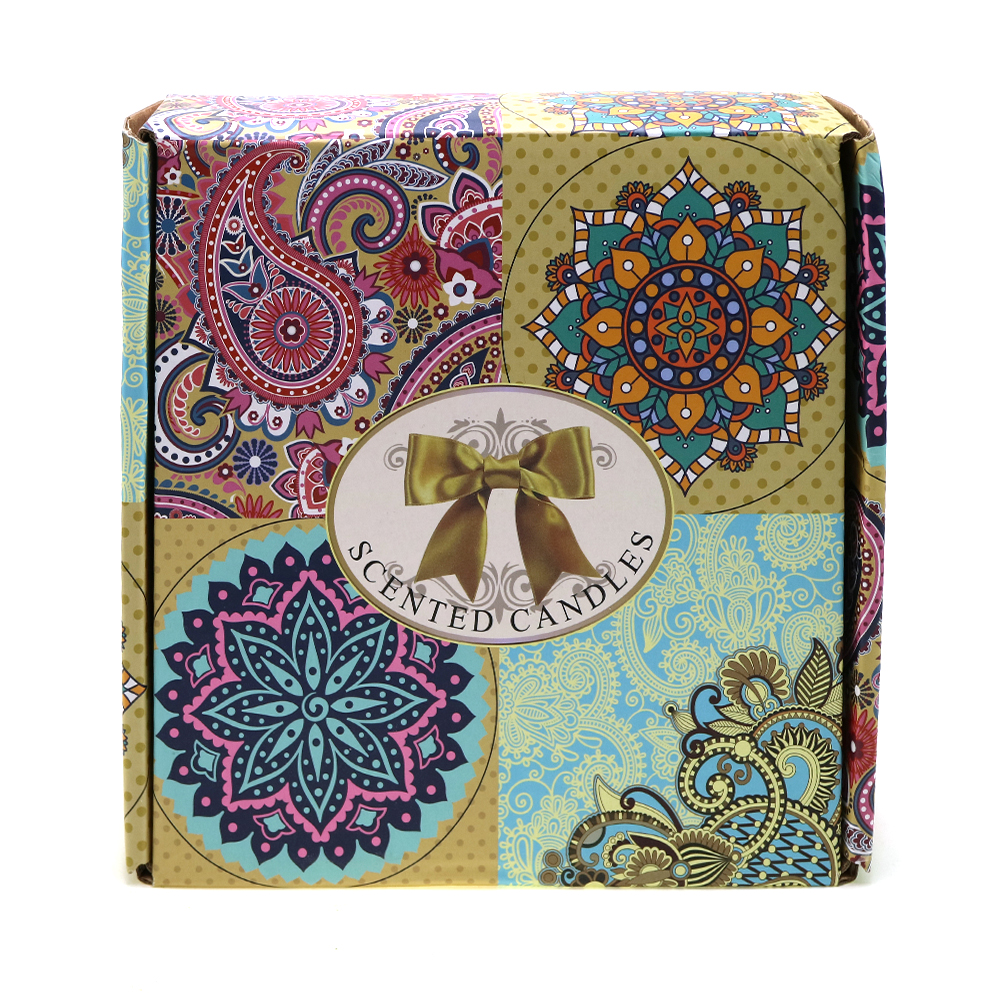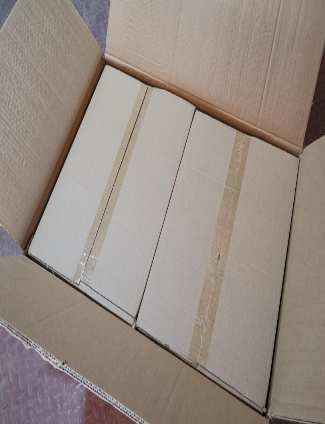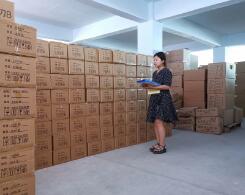 The product is packed in color cartons with bubble pads inside. The outer box is packed with a five-layer corrugated box to ensure that the product is intact during transportation. In addition, we can also customize the packaging according to your needs. 2.Package Details

Our Service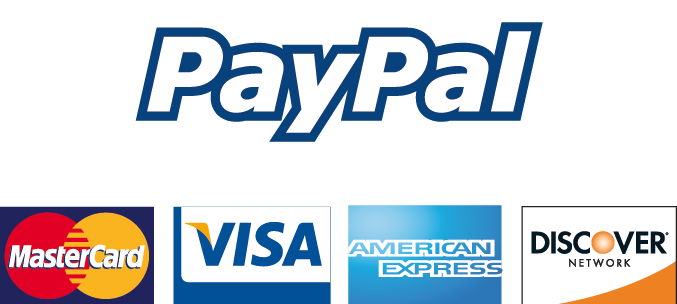 1. Any inquiries will be replied within 12 hours. 2. OEM/ODM Available. 3.Sample is available for your evaluation & Formulation development. 4.Fastest delivery: Sample order in stock and 3-7 days for mass production. Samples&transportation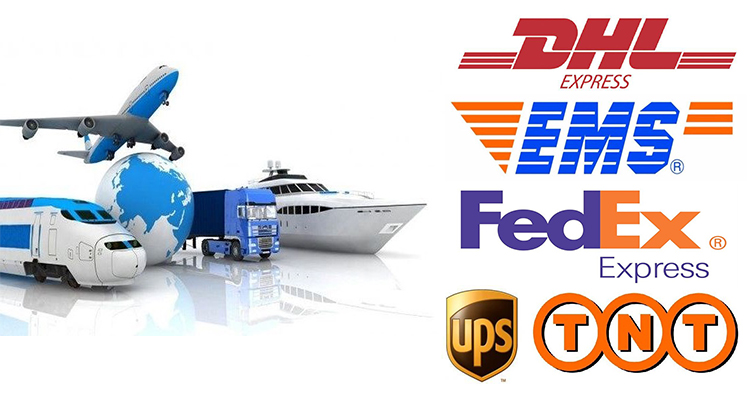 FAQ Q1. Can I have a sample order for this candle ? A: Yes, we welcome sample order to test and check quality.
Q2. What is your payment term? We accept T/T, Western Union, Paypal, Escrow,LC(above 10K USD). Big order: 30% deposit, 70% balance by BL copy.(By air will be before shipping)
Q3. Could you do OEM products ? A:We have our own factory.
Q4. How do you ship the goods and how long does it take to arrive? A: We usually ship by DHL, UPS, FedEx or TNT. It usually takes 3-5 days to arrive. Airline and sea shipping also optional.
Q5. How to proceed an order for bulk production? A: (1)Firstly let us know your requirements . (2)Secondly We quote according to your requirements or our suggestions. (3)Thirdly customer confirms the samples and places deposit for formal order. (4)Fourthly We arrange the production.
Q6. Is it OK to print my logo on this product? A: Yes. Please inform us formally before our production and confirm the design firstly based on our sample.
Q7: How to deal with the faulty? A: Firstly, Our products are produced in strict quality control system and the defective rate will be less than 0.2%. Secondly, during the guarantee period, we will send new lights with new order for small quantity. For defective batch
products, we will repair them and resend them to you or we can discuss the solution including re-call according to real situation.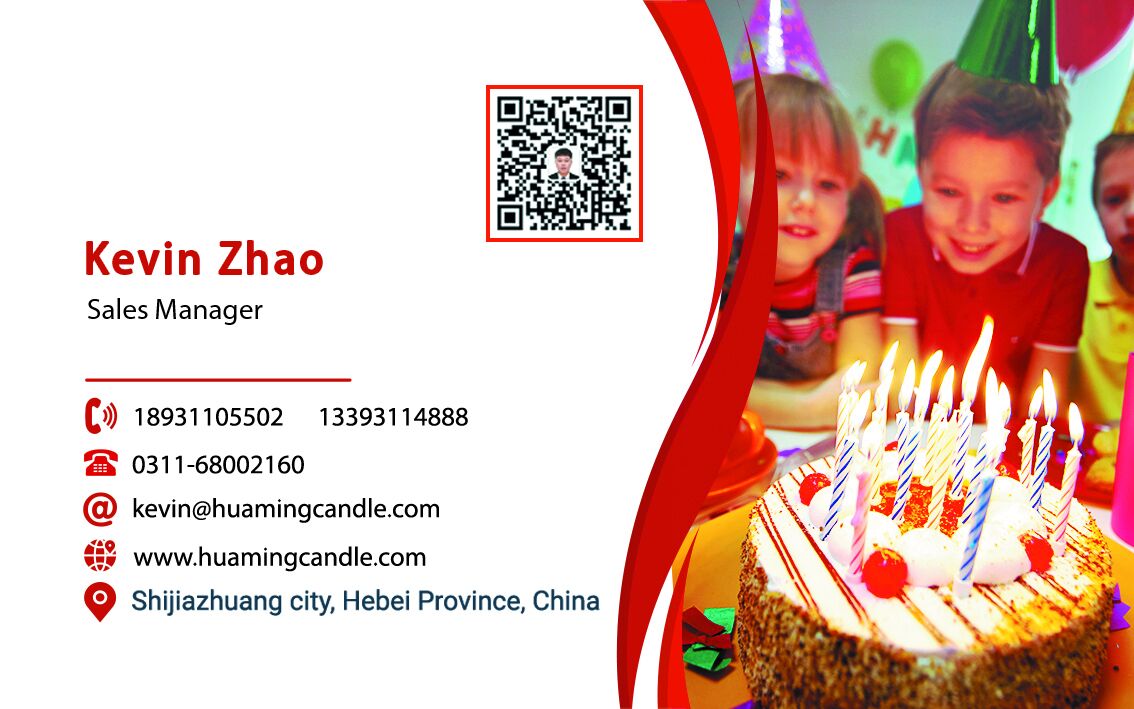 Contact us if you need more details on tin jar candle. We are ready to answer your questions on packaging, logistics, certification or any other aspects about scented candle、soy wax candle. If these products fail to match your need, please contact us and we would like to provide relevant information.
Product Categories : Tin Candle