Kids Birthday Decoration Cake Shape Birthday Candles
Product Description
#detail_decorate_root .magic-0{vertical-align:top}#detail_decorate_root .magic-1{vertical-align:top;display:block;padding-right:4px;box-sizing:border-box;padding-left:4px}#detail_decorate_root .magic-2{vertical-align:top;padding-bottom:4px;box-sizing:border-box;padding-top:4px}#detail_decorate_root .magic-3{padding:0;margin:0;white-space:pre-wrap;font-size:14px}#detail_decorate_root .magic-4{text-align:center}#detail_decorate_root .magic-5{font-family:inherit;font-style:inherit;font-variant-ligatures:inherit;font-variant-caps:inherit}#detail_decorate_root .magic-7{font-size:24px}#detail_decorate_root .magic-8{font-size:18px;font-family:inherit;font-style:inherit;font-variant-ligatures:inherit;font-variant-caps:inherit}#detail_decorate_root .magic-9{font-family:inherit;font-size:inherit;font-style:inherit;font-variant-ligatures:inherit;font-variant-caps:inherit}#detail_decorate_root .magic-10{width:750px}#detail_decorate_root .magic-11{overflow:hidden;width:750px;height:324px;margin-top:0;margin-bottom:0;margin-left:0;margin-right:0}#detail_decorate_root .magic-12{margin-top:-92px;margin-left:-66px;width:867px;height:487px}#detail_decorate_root .magic-13{border-bottom-style:none;border-bottom-color:#aaaaac;font-family:Roboto;font-size:18px;color:#000;background-color:#59c7f9;font-style:normal;border-bottom-width:2px;padding-top:8px;padding-bottom:4px}#detail_decorate_root .magic-14{width:750px;border-collapse:collapse}#detail_decorate_root .magic-15{min-height:18px;padding:5px 10px;width:126px;min-height:18px;box-sizing:content-box}#detail_decorate_root .magic-16{min-height:18px;padding:5px 10px;width:569px;min-height:18px;box-sizing:content-box}#detail_decorate_root .magic-17{display:none}#detail_decorate_root .magic-18{min-height:18px;padding:5px 10px;width:127px;min-height:18px;box-sizing:content-box}#detail_decorate_root .magic-19{min-height:18px;padding:5px 10px;width:568px;min-height:18px;box-sizing:content-box}#detail_decorate_root .magic-20{font-size:14px}#detail_decorate_root .magic-21{overflow:hidden;width:247.33333333333334px;height:247.33333333333337px;margin-top:0;margin-bottom:0;margin-left:0;margin-right:0}#detail_decorate_root .magic-22{margin-top:-196.26450742240218px;margin-left:-131.17678812415656px;width:637px;height:637px}#detail_decorate_root .magic-23{overflow:hidden;width:247.33333333333334px;height:247.33333333333337px;margin-top:0;margin-bottom:0;margin-left:4px;margin-right:0}#detail_decorate_root .magic-24{margin-top:-33.04453441295547px;margin-left:-37.04993252361674px;width:312px;height:312px}#detail_decorate_root .magic-25{margin-top:-66.08906882591094px;margin-left:-56.07557354925777px;width:378px;height:378px}#detail_decorate_root .magic-26{vertical-align:top;display:inline-block;padding-right:4px;width:33.33%;box-sizing:border-box;margin-bottom:-4px;padding-left:4px;margin-top:-4px}#detail_decorate_root .magic-27{white-space:pre-wrap;font-size:14px}#detail_decorate_root .magic-28{overflow:hidden;width:184.5px;height:184.5px;margin-top:0;margin-bottom:0;margin-left:0;margin-right:0}#detail_decorate_root .magic-29{margin-top:0;margin-left:0;width:184px;height:184px}#detail_decorate_root .magic-30{overflow:hidden;width:184.5px;height:184.5px;margin-top:0;margin-bottom:0;margin-left:4px;margin-right:0}#detail_decorate_root .magic-31{margin-top:-5.013586956521739px;margin-left:-2.005434782608696px;width:266px;height:266px}#detail_decorate_root .magic-32{margin-top:-59.16032608695652px;margin-left:-27.073369565217394px;width:233px;height:312px}#detail_decorate_root .magic-33{margin-top:1.002717391304348px;margin-left:-15.040760869565219px;width:286px;height:181px}#detail_decorate_root .magic-34{margin-top:-10.027173913043478px;margin-left:-73.19836956521739px;width:275px;height:184px}#detail_decorate_root .magic-35{margin-bottom:10px;overflow:hidden}#detail_decorate_root .magic-36{overflow:hidden;width:750px;height:451.2513034410845px;margin-top:0;margin-bottom:0;margin-left:0;margin-right:0}#detail_decorate_root .magic-37{margin-top:0;margin-left:0;width:750px;height:451.2513034410845px}#detail_decorate_root .magic-38{overflow:hidden;width:750px;height:358.4558823529412px;margin-top:0;margin-bottom:0;margin-left:0;margin-right:0}#detail_decorate_root .magic-39{margin-top:0;margin-left:0;width:750.0000000000001px;height:358.4558823529412px}#detail_decorate_root .magic-40{font-size:18px}#detail_decorate_root .magic-41{font-weight:bold}#detail_decorate_root .magic-42{overflow:hidden;width:750px;height:400px;margin-top:0;margin-bottom:0;margin-left:0;margin-right:0}#detail_decorate_root .magic-43{margin-top:-10px;margin-left:37px;width:676px;height:422px}#detail_decorate_root .magic-44{overflow:hidden;width:750px;height:238.77146631439894px;margin-top:0;margin-bottom:0;margin-left:0;margin-right:0}#detail_decorate_root .magic-45{margin-top:0;margin-left:0;width:749.9999999999999px;height:238.77146631439894px}#detail_decorate_root .magic-46{vertical-align:top;display:inline-block;padding-right:4px;width:50%;box-sizing:border-box;margin-bottom:-4px;padding-left:4px;margin-top:-4px}#detail_decorate_root .magic-47{overflow:hidden;width:184.5px;height:118.62517099863202px;margin-top:0;margin-bottom:0;margin-left:0;margin-right:0}#detail_decorate_root .magic-48{margin-top:0;margin-left:0;width:184px;height:118px}#detail_decorate_root .magic-49{overflow:hidden;width:184.5px;height:118.32065217391305px;margin-top:0;margin-bottom:0;margin-left:4px;margin-right:0}#detail_decorate_root .magic-50{margin-top:0;margin-left:0;width:184px;height:132px}#detail_decorate_root .magic-51{margin-top:0;margin-left:0;width:184px;height:224px}#detail_decorate_root .magic-52{margin-top:-32.08695652173913px;margin-left:1.002717391304348px;width:181px;height:242px}#detail_decorate_root .magic-53{overflow:hidden;width:750px;height:362.4237804878049px;margin-top:0;margin-bottom:0;margin-left:0;margin-right:0}#detail_decorate_root .magic-54{margin-top:2px;margin-left:19px;width:712px;height:344px}#detail_decorate_root .magic-55{overflow:hidden;width:750px;height:113px;margin-top:0;margin-bottom:0;margin-left:0;margin-right:0}#detail_decorate_root .magic-56{margin-top:0;margin-left:0;width:750px;height:113px}#detail_decorate_root .magic-57{overflow:hidden;width:750px;height:300px;margin-top:0;margin-bottom:0;margin-left:0;margin-right:0}#detail_decorate_root .magic-58{margin-top:-10px;margin-left:64px;width:609px;height:324px}#detail_decorate_root .magic-59{vertical-align:top;box-sizing:border-box;padding-top:4px}#detail_decorate_root .magic-60{width:245px;height:281.34271099744245px;overflow:hidden}#detail_decorate_root .magic-61{position:relative;left:0;top:0;width:245px;height:281.3427109974425px}#detail_decorate_root .magic-62{width:245px;height:281px;overflow:hidden}#detail_decorate_root .magic-63{position:relative;left:0;top:7px;width:277px;height:224px}#detail_decorate_root .magic-64{position:relative;left:-6px;top:-101px;width:258px;height:381px} Kids Birthday Decoration Cake Shape
Birthday Candles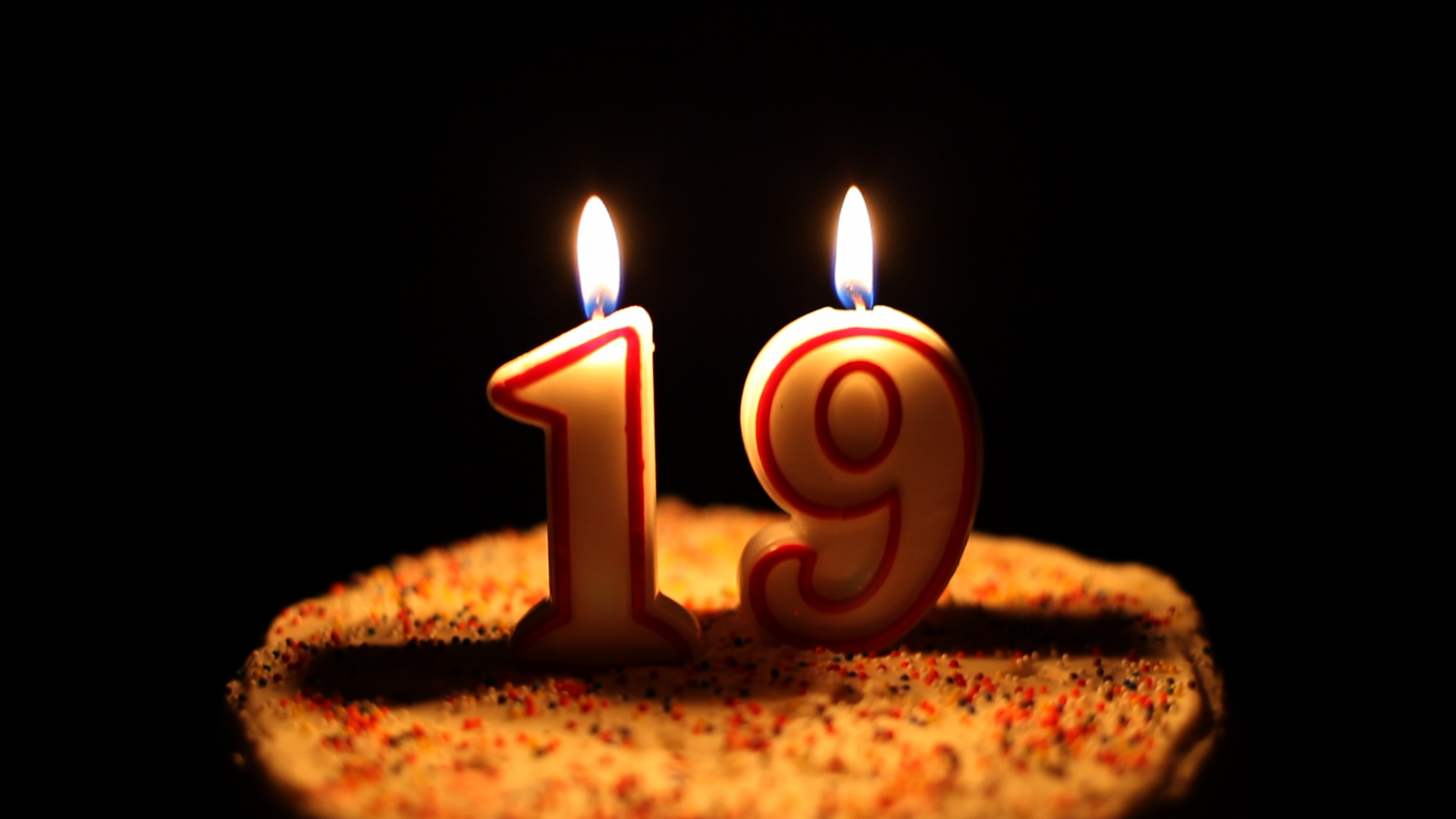 Product Description 1.Product paramter
All magic-14">

Material

Print

Factory design or Customize

Usage

Birthday

Party

,memorial days etc

Color

Multi-Colored so on

OEM

Available

Packing

Plastic Bag

, PVC box, Blister card,Opp bag,Paper box etc

Canton Size

30*30*50 cm

Delivery time

20-30 Days After Receive Your Deposit

MOQ

144 cards
2.Product Details: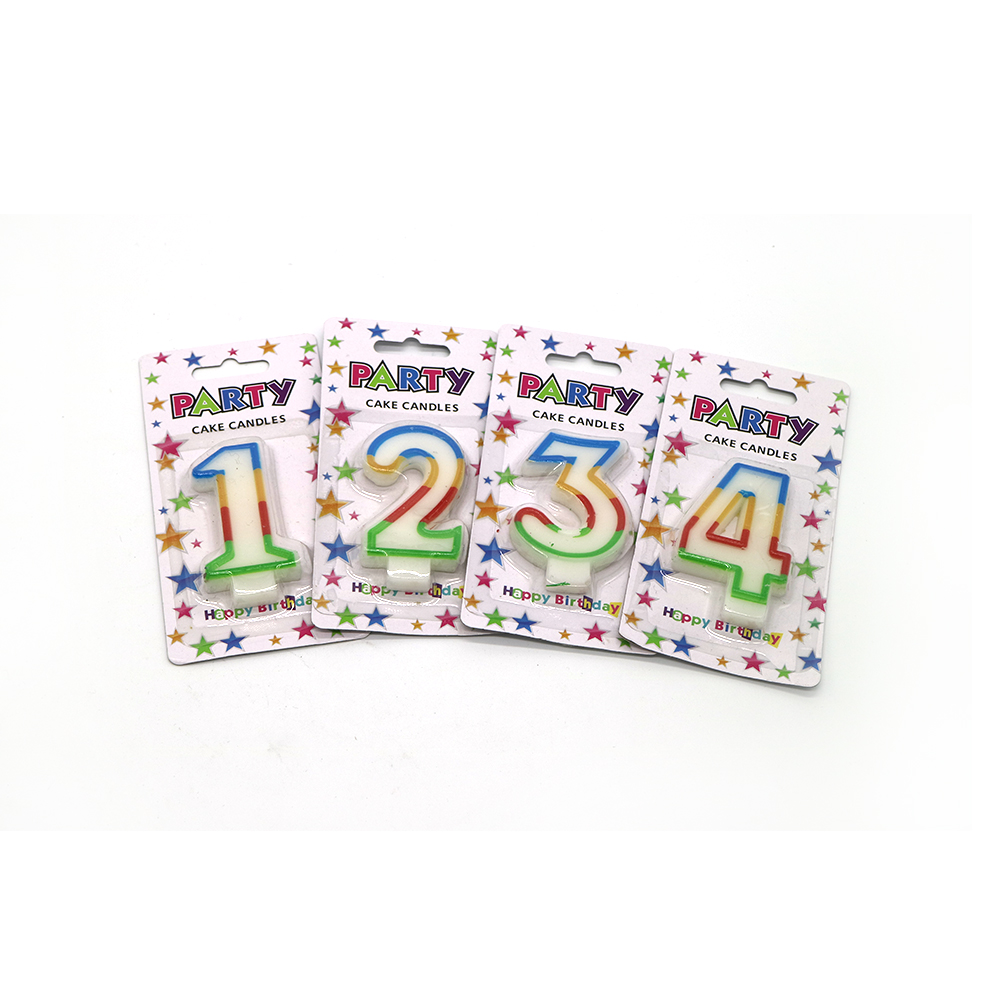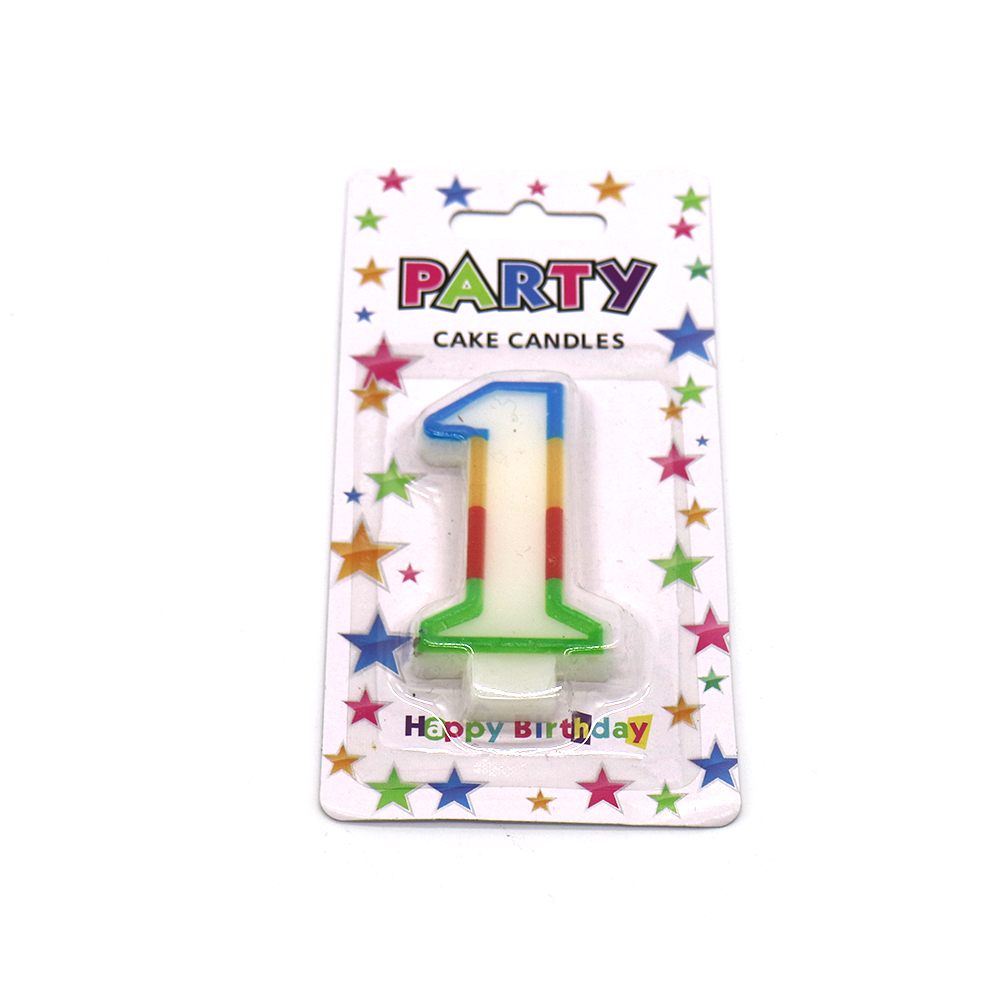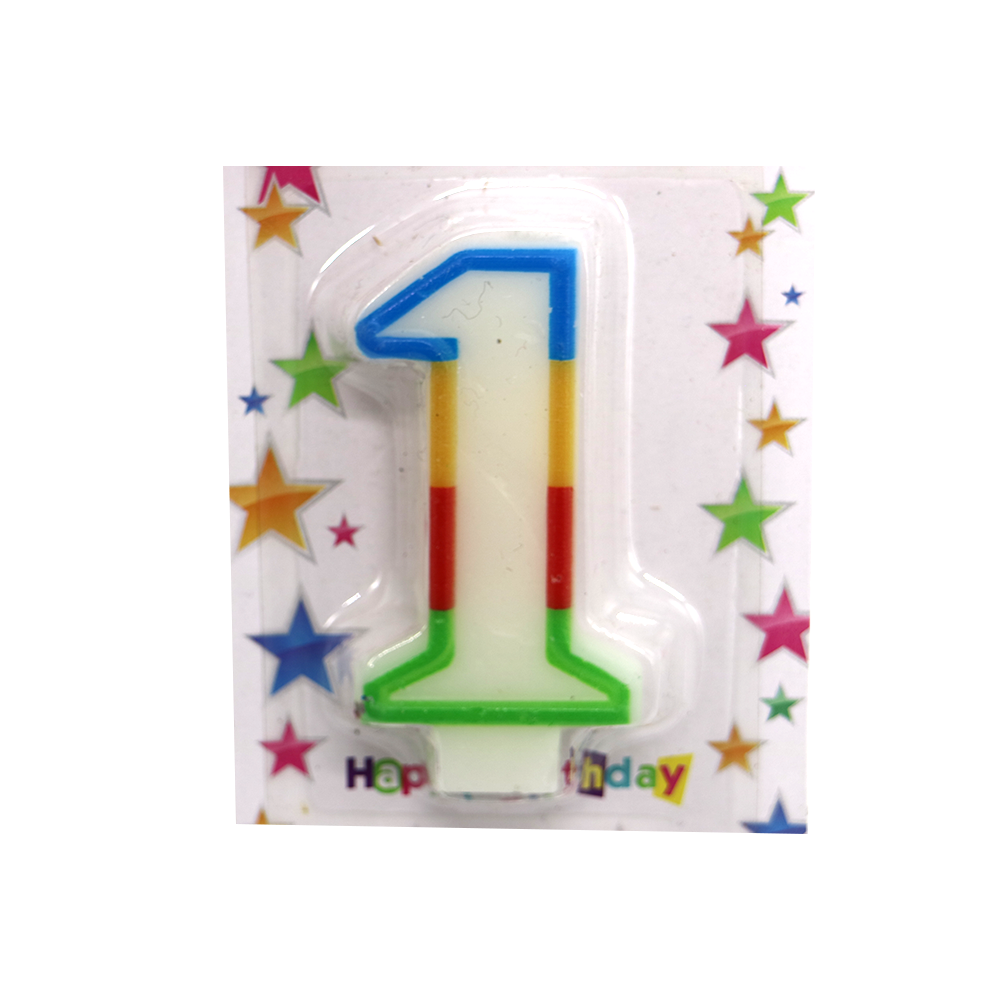 Selection of high-quality paraffin raw materials, full combust Choose from a variety of colors to make your birthday party gor Burning lasting, sustained burning 2-3 minutes, fully allow ev Product Applications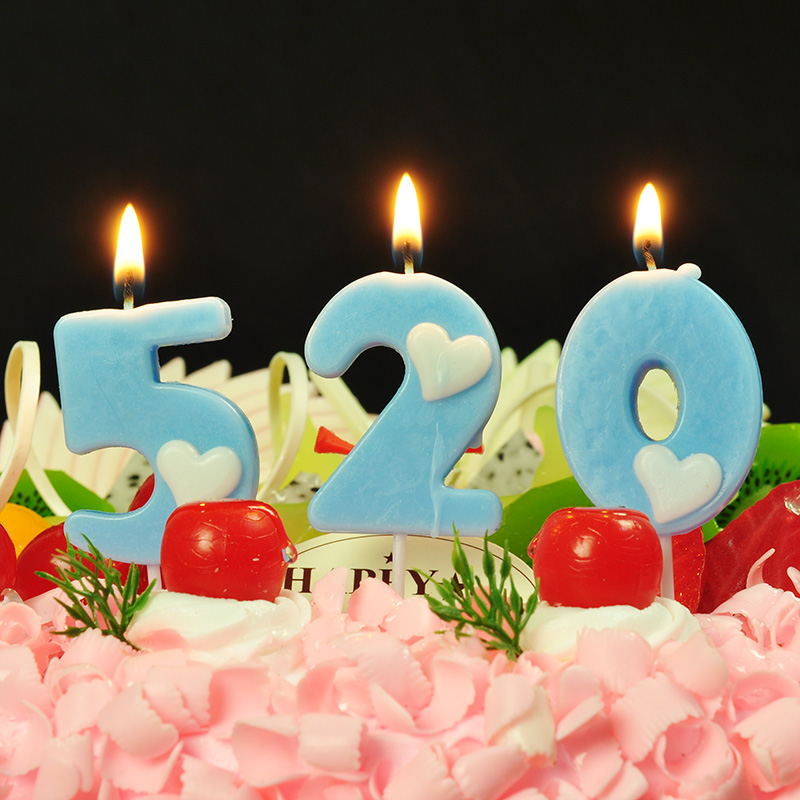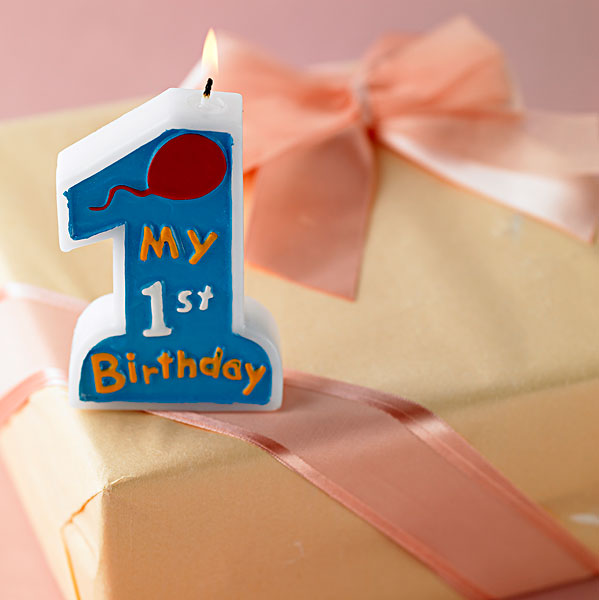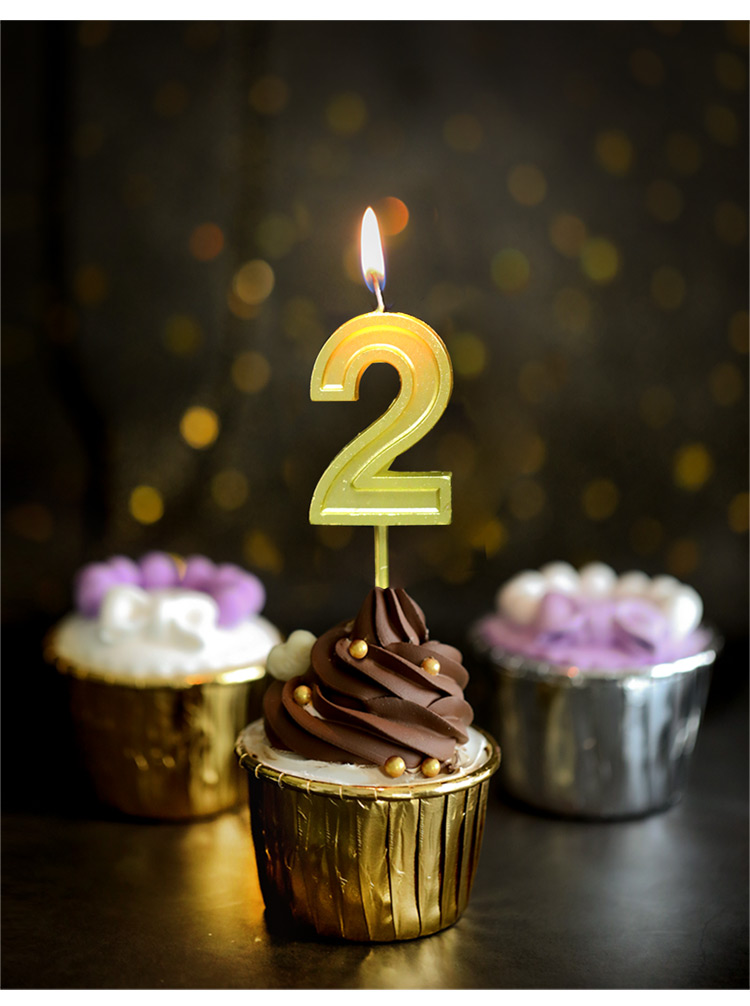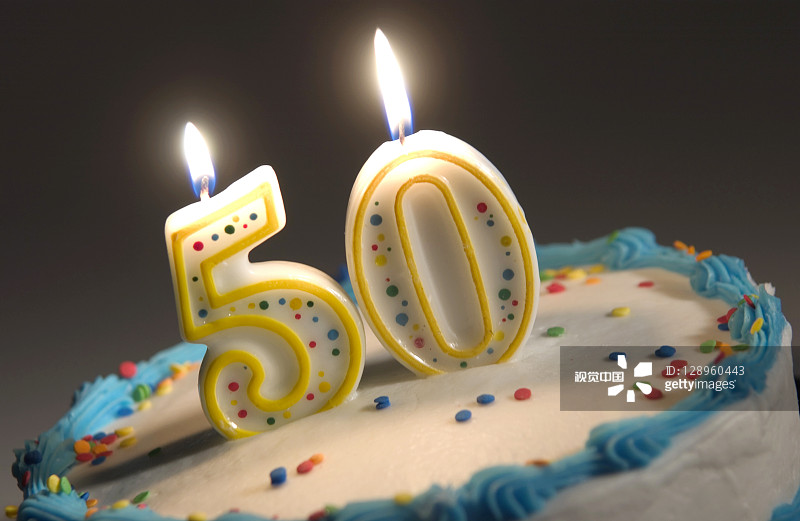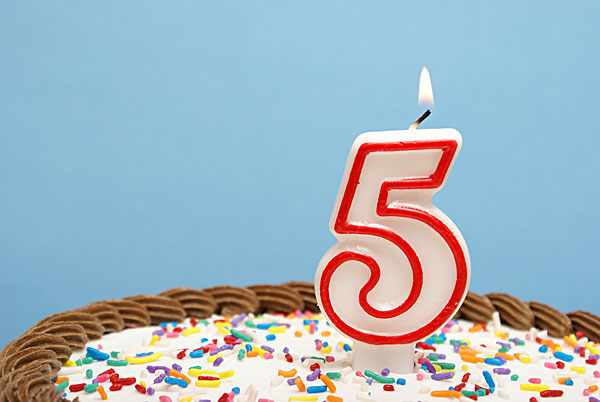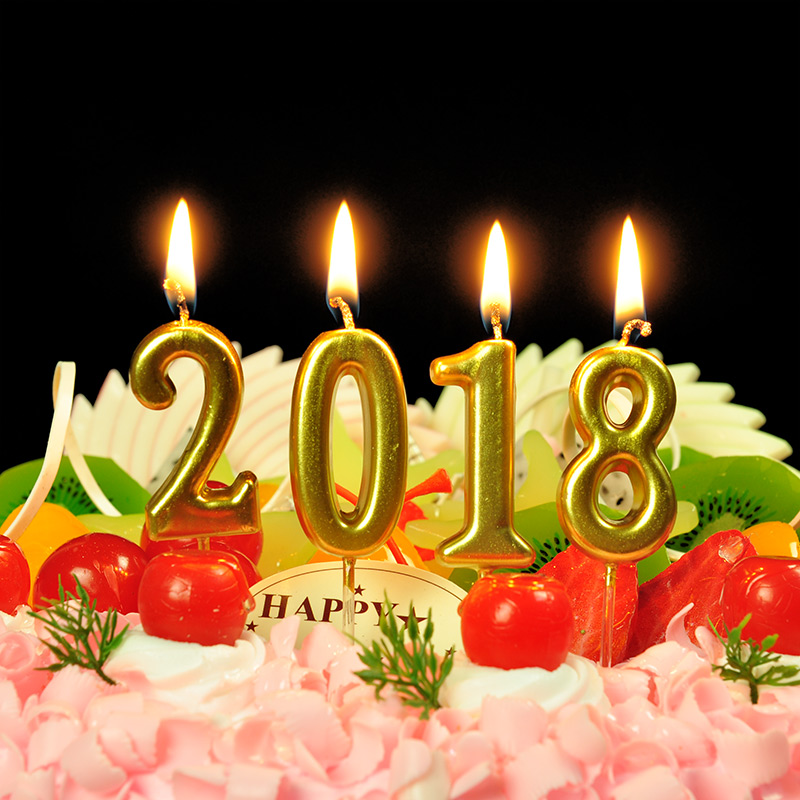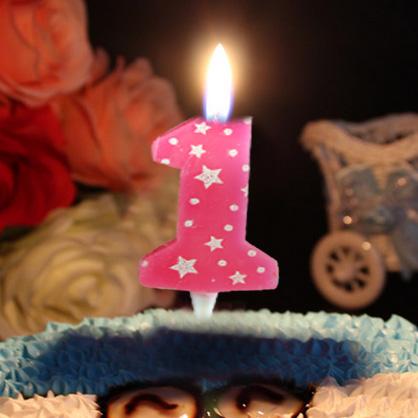 Hot Products Company Information 1.Our company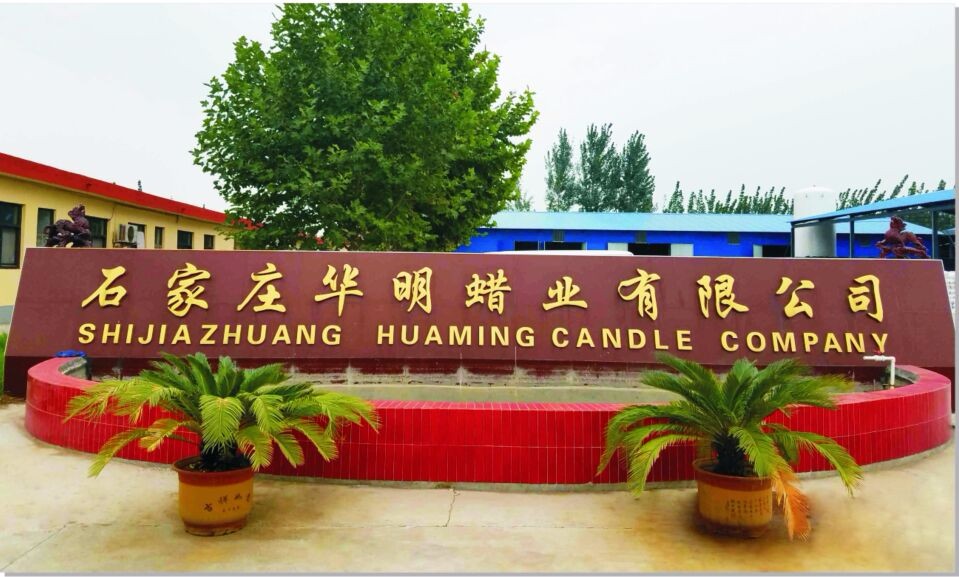 Founded in 1991, our company has developed into a modern enterprise.Our company covers an area of 10000 square meters, and has 300 existing staff members and nearly 500 machines. Up to now, our monthly productivity has reached over 50 pieces of containers. Our main products include Spiral candles, white candles,
Tealight Candles
, Tapered candles, pillar candles, and some art candles. Our products are exported to the USA, Europe, Africa, the Middle East and other countries and regions around the world. The most importantly is that we have a ready market in Africa and the Middle East.We welcome every friend to discuss business for sincere cooperation. 2.Exhibition show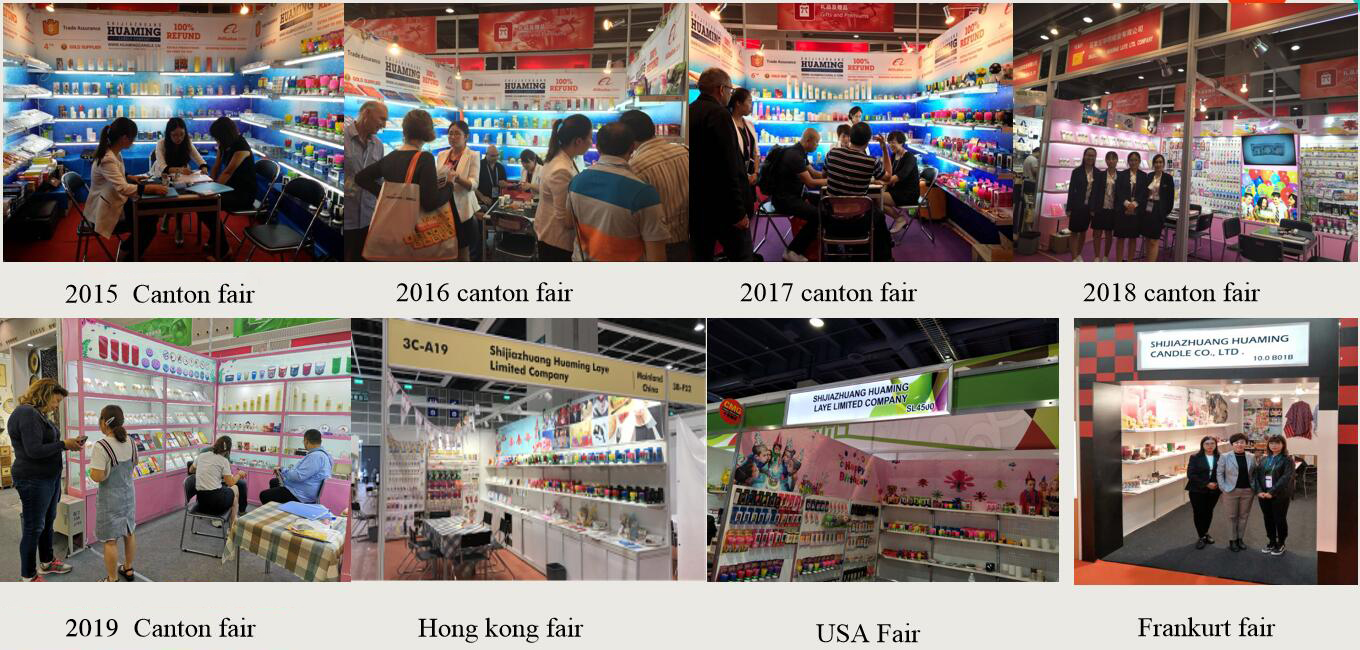 We participate in a number of exhibitions every year, both domestically and abroad. Quality Control Production Process:We have a complete production process, and each step is strictly inspected to ensure product safety.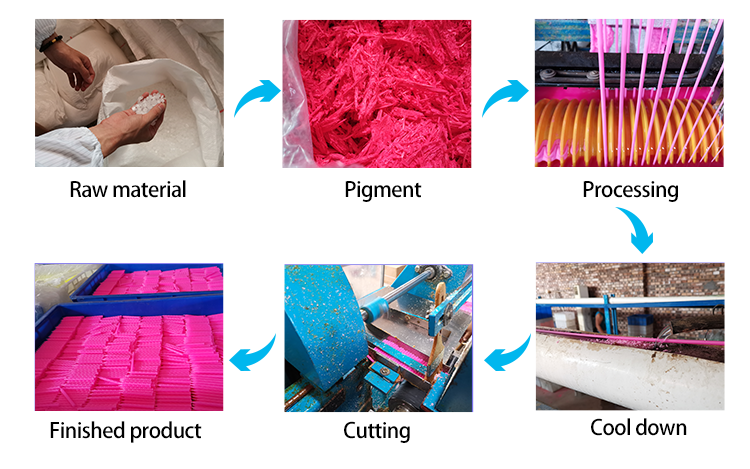 Quality comparison:

Candles produced using 60-grade paraffin wax have relatively high melting points and strong stability. High end-customer satisfaction and low return rates help customers increase their brand reputation and market share. Candles produced using 58 grade paraffin wax have relatively low melting points, unstable product quality, prone to customer complaints, high return rates, will increase customer after-sales costs, and affect customer brand and market image.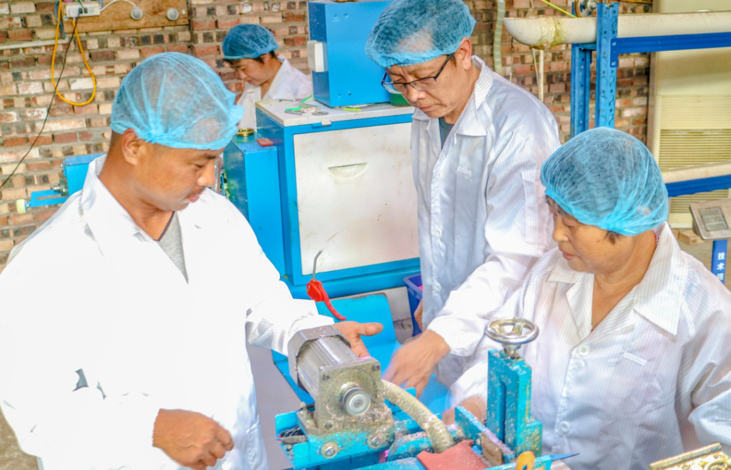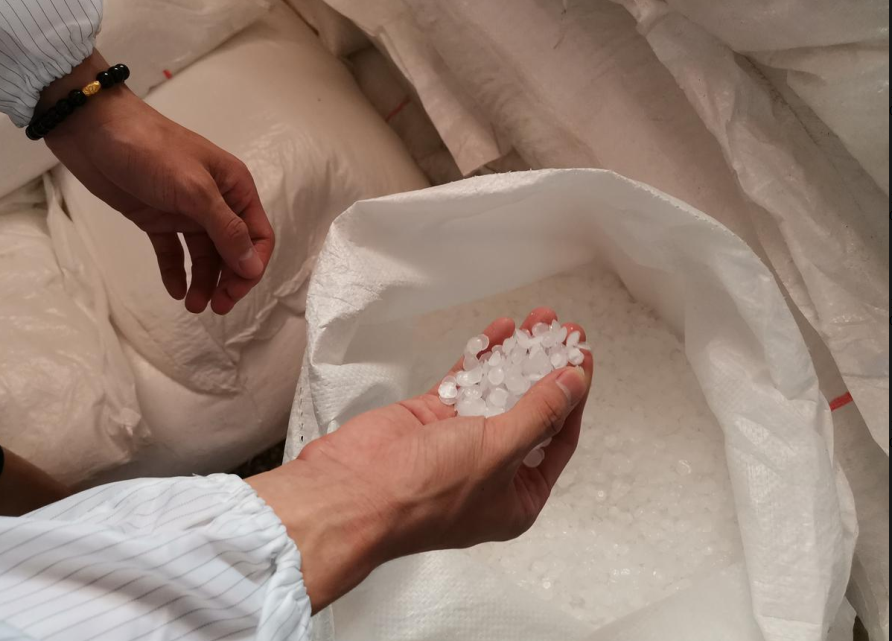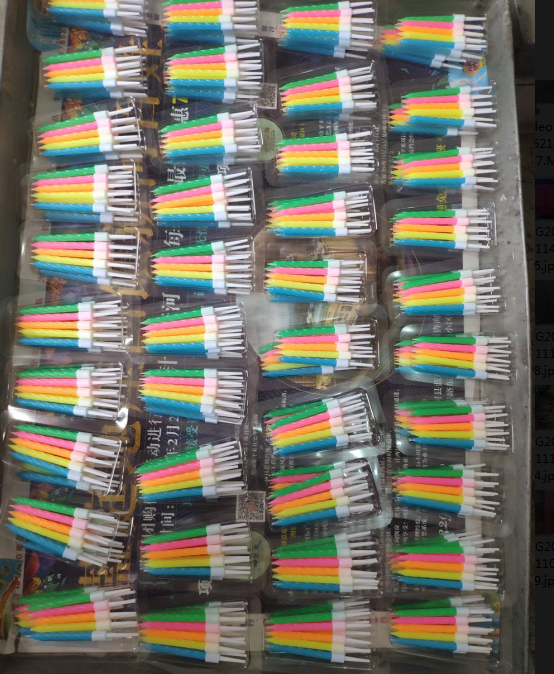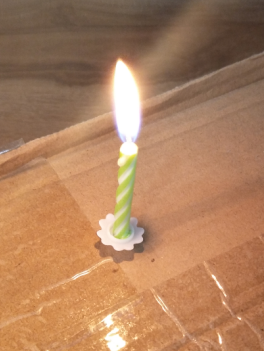 Analysis And Development Purchase Ingredients 100% Inspection Combustion Test
Certificate: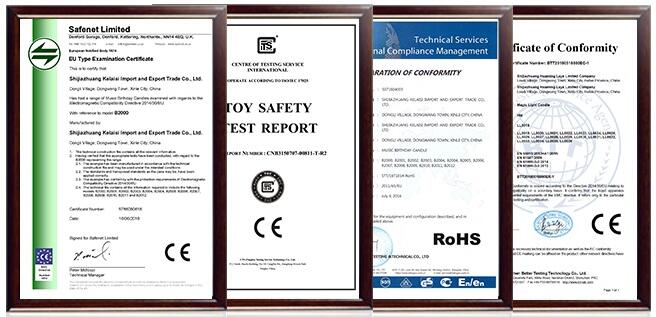 Packing&Shipping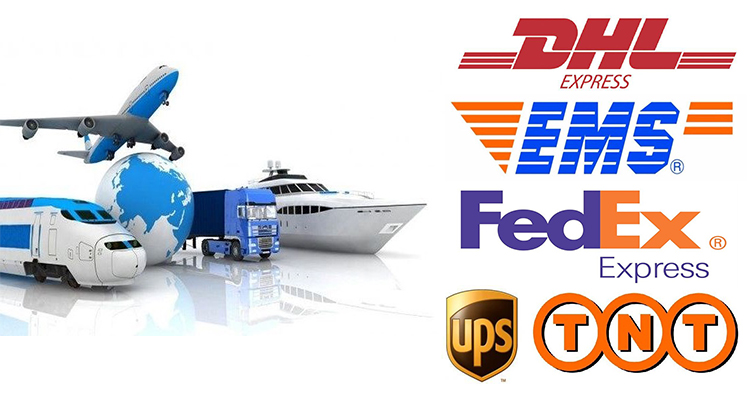 FeedBack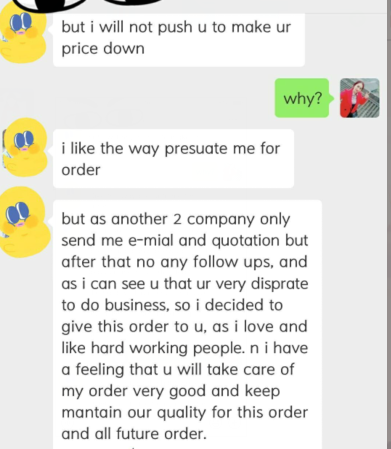 Daniel from US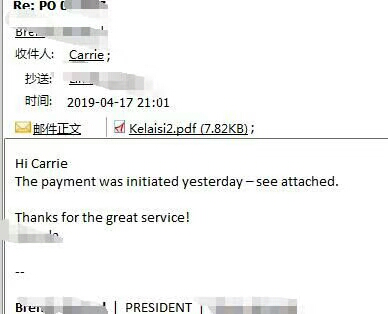 Blaine from UK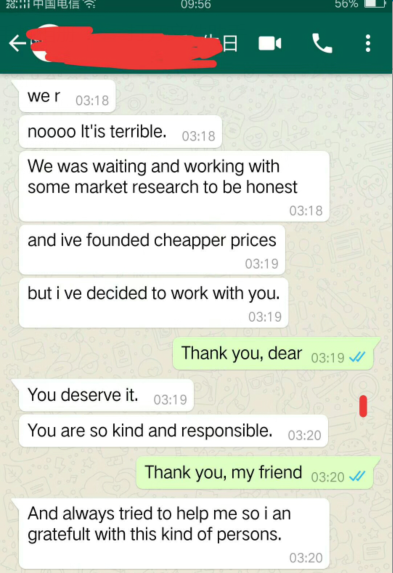 Vicky from Turkey FAQ Q1:Where can I get product&price information? A1:Send us inquiry e-mail , we will contact with you when we receive your email. Q2:How long can i get the sample? A2:Depends on your specific items,within 3-7 days is required generally. Q3:What's kinds of information you need for quote? A3:Kindly please provide the product drawing in PDF,and will be better you can provde in details information. Q4: what's the payment terms? A4: We accept 30% as payment deposit, when the goods is done, we take photoes for your check and you then pay the balance. For small amount, we accept Paypal, Paypal commission will be added to the order. For big amount, T/T is preferred. Q5: How to delivery the goods? A5:We deliver the products by courier company . Q6.Are you a trading company or factory? A6:We are direct factory with 10 experienced engineers and more than 50 employees as well approximate 3,000 square meters workshop area. Q7. Can we get some samples before mass production? A7:Absolutely ,we will deliver samples for confirmation after we tried the new moulds. Contact us if you need more details on kids birthday decoration. We are ready to answer your questions on packaging, logistics, certification or any other aspects about cake shape candles、birthday candles. If these products fail to match your need, please contact us and we would like to provide relevant information.
Product Categories : Birthday Candle > Digital Candles